CONTENTS: 
Color Nail C16 FALL IN LOVE 
Bling Nail B01 TWINKLE PINK
Glitter Nail G06 PINK CANDY PANGPANG
(8 mL–0.27 Fl. Oz / each bottle) 
WATER-BASED
NON-TOXIC (18-FREE)
EASY PEEL-OFF 
Safe to use on children's and pregnant women's nails
Passed clinical dermatology trial
Made in South Korea
Main ingredients: Water (70%), moisturizer, vitamin, color, etc. 
"Removes without harsh chemicals"

Puttisu Nail Polish DOES NOT contain: acetone, acetonitrile, butyl acetate, camphor, dibutyl phthalate, ethyl acetate, ethyl tosylamide, formaldehyde, formaldehyde resin, GMO's, isopropyl acetate, metacril acid, parabens, sulfates, toluene, triphenyl phosphate, xylene or 4th generation quaternary ammonium compounds. 

Customer Reviews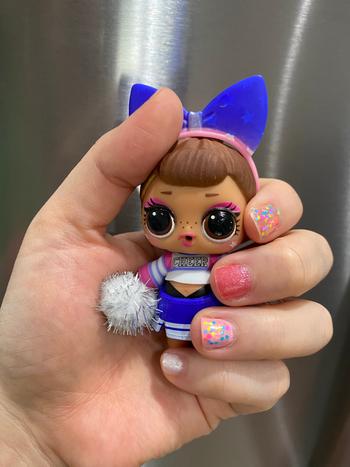 06/12/2021
Wow!
I thought these are going to be like any other nail polishes for kids. Watered down look with rough edges around the nail beds. I was totally wrong. Love the saturated colors and how they apply so well! My daughter loves the smell too. I will definitely buy more. Even for myself. The stickers are very cute as well. Korean cosmetic brands are the best.
WJ

United States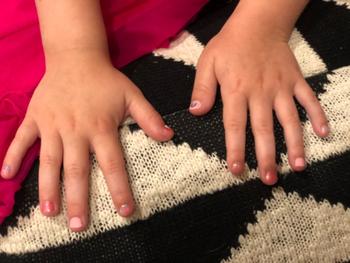 07/16/2020
Love!!!
The best kids nail polish set hands down! So adorable and it stays on longer than any other polished we have used. Love!!!
Courtenay D.

United States
10/07/2021
Peel off
Love that you can peel it off and no chemical smell. Perfect for the little one.
Sokhan B.

United States
08/02/2021
Cutest products ever for girls!!
My daughter loves them! They are cute, safe, and they even smells good!! I also purchased another set for my daughter's best friend for her birthday and she loves them too! These are great products with very good quality! ❤️
Xiaoke L.

Chino, California
07/02/2021
The gift of my7-year-old's dreams
I bought this set for my daughter's 7th birthday. They're great to let her do herself because they clean up *very* easily if she spills a little. She's really something of a Tomboy, but she is honestly in love with these polishes!
Melanie H.

Gibsonia, Pennsylvania